By Damian Carrington,
The Guardian
, February 10, 2019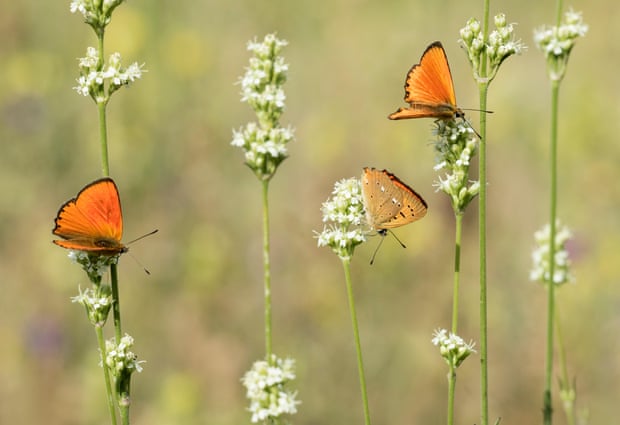 Scarce copper butterflies. Photograph: Marlene Finlayson/Alamy Stock Photo/Alamy
The world's insects are hurtling down the path to extinction, threatening a "catastrophic collapse of nature's ecosystems", according to the first global scientific review.
More than 40% of insect species are declining and a third are endangered, the analysis found. The rate of extinction is eight times faster than that of mammals, birds and reptiles. The total mass of insects is falling by a precipitous 2.5% a year, according to the best data available, suggesting they could vanish within a century.
Insect population collapses have recently been reported in
Germany
and
Puerto Rico
, but the review strongly indicates the crisis is global. The researchers set out their conclusions in unusually forceful terms for a peer-reviewed scientific paper: "The [insect] trends confirm that the sixth major extinction event is profoundly impacting [on] life forms on our planet.
"Unless we change our ways of producing food, insects as a whole will go down the path of extinction in a few decades," they write. "The repercussions this will have for the planet's ecosystems are catastrophic to say the least."
The analysis,
published in the journal Biological Conservation
, says intensive agriculture is the main driver of the declines, particularly the
heavy use of pesticides
.
Urbanisation
and climate change are also significant factors.
"If insect species losses cannot be halted, this will have catastrophic consequences for both the planet's ecosystems and for the survival of mankind," said Francisco Sánchez-Bayo, at the University of Sydney, Australia, who wrote the review with Kris Wyckhuys at the China Academy of Agricultural Sciences in Beijing.
The 2.5% rate of annual loss over the last 25-30 years is "shocking", Sánchez-Bayo told the Guardian: "It is very rapid. In 10 years you will have a quarter less, in 50 years only half left and in 100 years you will have none."
One of the biggest impacts of insect loss is on the many birds, reptiles, amphibians
and
fish that eat insects. "If this food source is taken away, all these animals starve to death," he said. Such cascading effects have already been seen in Puerto Rico, where a recent study revealed a
98% fall in ground insects over 35 years
.
The new analysis selected the 73 best studies done to date to assess the insect decline. Butterflies and moths are among the worst hit. For example, the number of widespread
b
utterfly species fell by 58% on farmed land
in England between 2000 and 2009. The UK has suffered the biggest recorded insect falls overall, though that is probably a result of being more intensely studied than most places.