by Jonathan Watts,
The Guardian
, November 15, 2018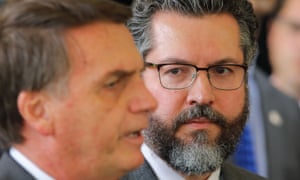 Ernesto Araujo, right, has been nominated by President-elect Jair Bolsonaro, left, to be Brazil's top diplomat. His appointment could undermine Brazil's leading role in climate change. Photograph: Sergio Lima/AFP/Getty Images
Brazil's president-elect
Jair Bolsonaro
has chosen a new foreign minister who believes climate change is part of a plot by "cultural Marxists" to stifle western economies and promote the growth of China.
Ernesto Araújo – until recently a mid-ranking official who blogs about the "
criminalisation
" of red meat, oil,
and
heterosexual sex – will become the top diplomat of South America's biggest nation, representing 200 million people and the greatest and most biodiverse forest on Earth, the Amazon.
His appointment, confirmed by Bolsonaro on Wednesday, is likely to send a chill through the global climate movement.
Brazil was where the international community first came together in 1992 to discuss reductions in greenhouse gas emissions. Its diplomats have played a crucial role in bridging the gap between rich and poor nations, particularly during the forging of the
Paris

agreement in 2015

]
But when the new government takes power in January, the foreign ministry that leads that work will be headed by a man who claims climate science is
mere
"dogma".
In his
blog
,
Araújo states his goal is to "help Brazil and the world liberate themselves from globalist ideology", which he sees as anti-Christian.
The 51-year-old diplomat – who has never served as an overseas ambassador – claims unnamed leftist politicians have hijacked environmentalism to serve as a tool for global domination.
"This dogma has been used to justify increasing the regulatory power of states over the economy and the power of international institutions on the nation states and their populations, as well as to stifle economic growth in democratic capitalist countries and to promote the growth of China," he wrote in
a post
last month.
In
another
,
he claimed the centre-left Workers party in Brazil was "criminalising sex and reproduction, saying that all heterosexual intercourse is rape and every baby is a risk to the planet as it will increase carbon emissions". He then went on to accuse the party of criminalising red meat, oil, air conditioners and Disney movies.
The
incendiary
rhetoric
echoes that of Bolsonaro, who won last month's presidential election with about 57.7m votes. The former army captain has since moved to put in place one of the world's most far-right administrations and promised to align Brazil more closely to Trump and the US.
Climate negotiation experts said the appointment was sad for
Brazil
and the world – though they held out hope that the new foreign minister will be more pragmatic when he comes to represent his country.
"Brazil has played a very significant role for the Paris agreement. It would be really bad for the country's image if he brings with him his ideology," said Carlos Rittl, the executive secretary of
the Brazilian Climate Observatory
.
He said climate was the one area where Brazil could proudly boast to be a global leader, and urged the new foreign minister and president not to isolate the country in this field.
"Bolsonaro is not Trump. Brazil is not the United States. We don't have the same cards," he said. "If Brazil becomes a pariah on the global climate agenda, it would be extremely bad for our business, especially agribusiness. When they go to Europe to negotiate a deal, climate safeguards will be on the table. "
But he remains intent on opening up the Amazon to the farmers, miners and construction companies that supported his campaign.
His pick as agriculture minister is the head of the farming lobby, Tereza Cristina Dias, who conservationists have nicknamed the "Muse of Poison" due to her enthusiastic support for relaxing controls on agro-toxins.
She and her colleagues are said to be gutting the responsibilities of the environment ministry before its new head is appointed. The environment institution is likely to be so subservient that insiders joke there will soon be two agriculture ministries in Brazil.
The slim hope now for climate advocates is that the powerful agribusiness lobby will come to realise that the rain for their crops depends on a healthy Amazon and stable global environment. More than 80% of Brazil's municipalities have experienced drought in the past five years, which scientists have linked to deforestation.
But loggers are not waiting. The latest deforestation figures showed a sharp rise in deforestation during the election campaign, suggesting protections for nature and indigenous land are already weakening.