By Michael Friedman,
Monthly Review
, July 1, 2018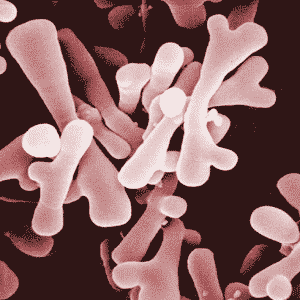 Bifidobacterium via Wikipedia Commons.
Metabolic rift theory has been applied to understanding various instances of our society's disruption of ecological processes. Capitalism, with its ever-expanding production to realize profits on an ever-growing market has created innumerable rifts between natural and social "metabolic" processes. Both as an analytical approach and a metaphor, metabolic rift theory also sheds light on the forms of disruption of human microbial ecosystems, with consequences for human health. Human microbiota, comprised of the microorganisms living on and in humans, has been shown to be essential for a growing list of physiological, metabolic, and developmental processes, as well as to mediate between environmental and physiological processes. Alterations of microbial biodiversity that result in disruption of microbial ecosystem functions (collectively referred to as dysbioses), have been associated with many noncommunicable and autoimmune conditions that are increasingly prevalent in industrialized and developing nations. Major factors favoring these dysbioses include diets high in processed foods and extensive antibiotic exposures.
These factors cannot be divorced from the practices of respective industries that see profits and capital accumulation as their primary goals. These goals favor production that is divorced from ecological networks and respond to a reductionist paradigm that conceives of complex processes in terms of simplified causal chains. Capitalist production results in cascades of unforeseeable consequences, which must then be met by magic-bullet solutions, setting the stage for further undesirable consequences. While practical health measures arising from emerging knowledge of the microbiome are important, they do not address the underlying cause of the disruptions that cause dysbioses. We can expect to continue to see disruptions of the microbiome until we are able to re-conceptualize and transform our engagement with ecosystems large and small, and with the assistance they provide to humankind.
Our Own Ecosystem
Microbiota-Physiological Interactions
Microbiota Disruption and Disease
Environmental Impacts on Microbiota
Diet
Antibiotics
Social Determinants of Microbiota
The host immune system is extremely sensitive to changes in the environment and the microbiome. Consequently, perturbations of any kind may result in an aberrant immune response and increased susceptibility to chronic disease. We speculate that a bidirectional interaction exists between the microbiome and psychosocial indicators, and both change in response to the health status of the individual. We recognize that the microbiome may possibly change in response to the immune system, and conversely, the immune system may respond to changes in the microbiome. Furthermore, the same bidirectional relationship observed between the microbiome and psychosocial indicators exists between overall health status and psycho-social indicators.

91
Capitalism and Micro-Ecological Disturbance
The Food Industry
Generally, more highly processed foodstuffs—goods with more "value added"—have more attractive rates of return for retailers and processors. Foodstuffs that have undergone little or no transformation—for example, table potatoes, fluid milk, eggs, flour, and tomato paste, referred to in the food business as "commodity" products—typically have rather thin profit margins, and indeed some, like fluid milk, are often sold below cost by supermarkets as loss leaders primarily to attract customers to the store. On the other hand, products that have been created out of inexpensive, and often subsidized, raw commodities such as sugar, potatoes, wheat, and corn, with some processing and the addition of inexpensive chemical additives to create "value added," can be processed into very profitable branded commodities. Their success in the market will depend heavily on expensive advertising, however, and market control.

108
The average linear footage devoted to pseudo foods ranged from 26 to 37 percent of the total of linear footage devoted to edible goods in the stores we surveyed. For the twelve stores sampled in our study, the average proportion of pseudo foods of all foods measured was 31 percent. Pseudo foods are more likely to be found on the shelves that constitute the central area of each store, where they range from 35 to 44 percent of all edible products. This, of course, is the part of most supermarket food environments where entire aisles are devoted to bulk candies and chocolates, to cookie displays, and to soft drinks and high-fat and high-sodium potato- and corn chip products.

113
Initial entry into markets focuses on packaged and highly processed foods that are marketed as exotic, convenient, and modern. Such investment has become so successful that food processing now has the highest amount of FDI compared to other parts of the food system. Most astonishing is the fact that FDI in the global processed foods market is more important than FDI in global trade. This fact is extremely important because it reiterates just how much market power is involved within the global food industry—particularly the sector that markets the most unhealthy, nutrient-poor food. Such extensive investment by transnational Big Food companies has created food systems that are increasingly influenced by external forces, rather than forces within the domestic country.

117
Recent research has documented the unprecedented pace by which the supermarket form of retail food selling is transforming Latin America, Asia, and Africa. A series of changes in the structures of economies in these regions have opened up new opportunities for the supermarket retail form. Among the most important of these changes are rapid urbanization; expansion of the middle class and with it a rise in disposable incomes for this segment of the population and the ability to purchase refrigerators; significant increases in female labor force participation; and the rapid growth of car culture and access to public transport.

124
Worldwide sales for this transnational were in the $30 billion range in 2007. This rival firm has itself a strong global presence, with restaurants in over a hundred countries by 2005. Indeed, it opened 780 restaurants in that year alone, boasting a total of an astounding 34,000 restaurants around the globe by 2005, outnumbering McDonald's in number of restaurant units…. Yum! Brands is especially strong in rapidly colonizing the world's fastest growing markets in the global South, with China being its priority target…. Yum! Brands reported 22 percent annual growth in its China business in 2005, along with franchise business sales growing 10 percent in the Caribbean and Latin America, 17 percent in the Middle East and North Africa, and 20 percent in South Africa.

128
Big Pharma
Patients as consumers have embraced the neoliberal logics of health care so that they too see illness in reductionist terms and seek pharmaceuticals as targeted magic bullets. This orientation toward health and medicine has been referred to as the pharmaceuticalization of health care, in which the conditions of health and illness are ever more cast in terms of products that can be purchased by health-engaged consumers. A medical system that revolves around pharmaceuticals contributes to a culture of medical neoliberalism. It ties together the commodification of health care with the fragmentation of the body where illness is treated in terms of discrete systems for which there are tailored products.

170
increased pharmaceuticalization is not fuelled primarily by growth in pharmaceutical provision to meet, and advance, health needs. Rather the sociological factors of consumerism, deregulatory state policies, industry's commercial priorities and product promotion, and medicalization have been expanding pharmaceuticalization in ways that are largely outside such provision. It may be that marketing does not necessarily create false needs…but it may create false claims and expectations about the capacity of pharmaceuticals to meet those needs. Moreover, the ideological appropriation of patients' needs as consumer preferences in a market means that public health requirements, which are poorly expressed in marketing processes such as antibiotic development and protection from drug injury, are inappropriately neglected by an industry supposed to advance health.

174
Conclusion
Notes