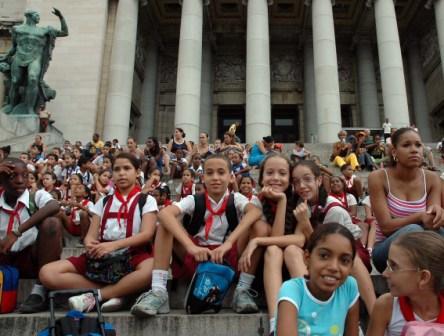 Saturday, February 13, 2010
By: Isabel Sanchez
HAVANA, February 13, 2010 (AFP) - Half a century after Fidel Castro's revolution claimed to have done away with racism, Cubans are publicly debating a stubborn strain of discrimination and prejudice that associates blacks here with quarrels, crime, sex and rum.
"I am not racist, but I don't want my daughter to have a black boyfriend. No way!" said Celia, a 52-year-old former teacher of mixed race. "When she became a young lady, I told her: 'I married your father to go forward, not backwards.'"
Experts discussed the problem on local television for the first time just recently, but ordinary Cubans readily acknowledge that racism is pervasive in Cuba, a former Spanish colony and the destination of hundreds of African slaves.
"If 20 blacks pass by, the police will ask 18 of them for their identity cards. If 20 whites pass by, they will ask two of them," said Yeimi Mora, a 35-year-old housewife, explaining the situation to a white friend as she walked through a street in the center of Havana.
Daniel Casanova, a slender 29-year-old mulato who works in a cafeteria, and Carmen Leon, a blond 41-year-old Spaniard, hold hands on their strolls through town.
But they complain that the police stop them in the street "for being a black-white couple."
"They ask him for documents and they ask us how many years we've known each other and whether we are married. First on one corner, then the next, and on it goes like that five times over," said Carmen, who works in Spain but has had a long-distance relationship with Daniel for a year.
Daniel agreed and added, "Because of the economic problem everybody steals, but they blame the blacks. I have some pretty racist friends who tell me: 'You're okay, because I know you, but otherwise..."
In Cuban slang, someone who has an amorous relationship with a black person is said to have "a stain on his record", or that he or she "burns petroleum".
Olga, a 50-year-old linguist, said having a relationship with a black man would not even cross her mind. "I don't see blacks as the opposite sex," she told AFP.
"It's a low intensity racism, more differentiating than excluding, more diffuse," said Pablo Rodriguez of the Cuban Institute of Anthropology.
Ethnologist Miguel Barnet, president of Cuba's Union of Writers and Artists, said these prejudices are seated deep "in the subconscious and to eliminate them requires education."
Several weeks ago a document signed by personalities in the United States accused the government of Raul Castro of harassing blacks, a charge Cuba rejected.
Cuban academics say the revolution of 1959 eliminated institutional racism with laws and policies that ensure equality, for instance in education.
But after the revolution, racism was written off as solved. And for a long time little was said about it for fear of arousing divisions at a time of conflict with the United States.
But when Cuba was engulfed in an economic crisis following the collapse of the Soviet Union, the black population was hit harder than others in the country, accentuating their marginalization.
Bienvenido Contrerars, a taxi driver for 10 years, said he experienced discrimination. "Because I was black, I did not qualify to work at a hotel in Varadero," he said, referring to the island's main tourist center.
With a basket of artificial flowers, large earrings and her yellow hair in bun, Anita Montero, is a spirited, 37-year-old black woman who entertains tourists in Old Havana.
She lamented that blacks are only now being seen "a bit more in important jobs and the political leadership."
And yet, the glories of Cuba's music and sports owe much to the island's African roots.
More than 60 percent of Cuba's 11.2 million people are blacks and mulatos, even though 65 percent in the national census declared themselves to be white, says Esteban Morales, a political scientist at the University of Havana and a fierce defender of black rights.
"We have to take the bull by the horns and debate this subject," he said. "It would be silly to imagine that despite 50 years of revolution racial stereotypes don't exist."